Free reports from PinoyInvestor!
From time to time, I will be sharing some FREE reports care of my subscription with PinoyInvestor so better keep posted! As Atom says, "Ligtas ang may alam!"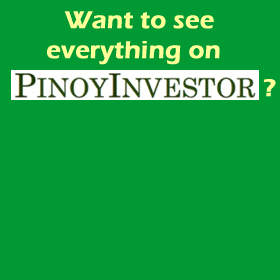 PinoyInvestor basically consolidates and summarizes the analyses of its various broker partners, giving its members the advantage of insights and recommendations from multiple brokers without the customer having to pay the cost of the services of the individual brokers and fund managers.
For this edition, stocks in focus are ACR, NIKL and URC.
BUY Rating for PSE: ACR with TP of PHP4!
Been following (and loading up) on this stock for quite some time. Personally long on this stock, ACR is also causing a stir in stock forums and FB groups. Hoping that something big is coming. Caveat emptor guys.
Technical Analysis of PSE: NIKL
I don't have this stock but this is also popular for mining fans. See what brokers has to say on NIKL's trend.
HOLD Rating for PSE: URC
A good consumer company with market leadership in many segments. Is it also a good stock at current prices?
Caveat! Trade at your own risk. As they say, "ligtas ang may alam."